Summer brings plenty of sunshine, pool days, and (hopefully) vacation time. It also brings heat. And a lot of it. Rising temperatures, summer storms, and long sunny days can wreak havoc on your exterior doors and your home. Show your exterior doors a little TLC with smart DIY door projects this summer.
Properly preparing your entryways for summer can save you time, money, and energy on:
Water damage

Unsightly fading, peeling, and cracking door surfaces

Higher utility bills
Make sure your exterior doors are ready to block out summer storms with proper weatherstripping.
Keep the heat, rain, and wind out of your home by updating your weatherstripping. Weathersealing helps prevent rot, drafts, and leaks by sealing the space between the door panel and door frame and blocking moisture from harsh weather.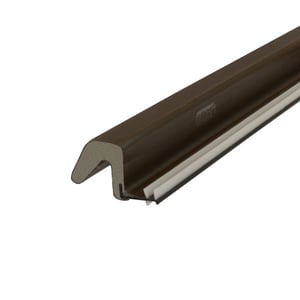 Endura Low Wick PE650 Weatherstrip
If you already have weatherstripping systems on your exterior doors, double check the condition of each system and address any peeling, missing, or worn areas. To replace your weathersealing materials, simply remove the existing weatherstripping and clean up any leftover residue with rubbing alcohol to ensure the that new weatherstripping can adhere to the door frame securely. For headache-free weathersealing, check out BetterDoor's six-step guide to easy weatherstripping.
Choose the right paint to deflect heat (and boost curb appeal).
Summer heat and sun can bleach your exterior doors and cause paint to crack, peel, and fade. Choosing lighter paint colors can spare your curb appeal by not showing as much wear and tear as dark colors, but choosing the right paint goes beyond preventing cosmetic eyesores.
Dark colors absorb and retain more heat than light doors, which can cause your exterior doors to swell, warp, and put additional stress on hardware like hinges and locks. Light paint colors will reflect light and heat away from your home rather than inviting it in to stay.
Save money on utilities by taking extra precautions.
Lightening the colors of your exterior doors and basic weatherstripping are great first steps to getting your home ready to combat summer weather. Do a thorough inspection of each exterior door, if you notice drafts, leaks, or gaps in your exterior doors even after you've upgraded your weatherstripping, make sure these four leak prone areas are properly sealed as well. You'll want to fix any gaps to prevent discomfort, weather damage, and high energy bills.
If you live in a particularly hot and humid climate, you may also want to consider the following:
Applying a protective UV coating

Using canopies or awnings in the summer

Installing storm doors
Once you've properly sealed and secured your entryways, have some fun decorating your door this summer!
Check out BetterDoor.com to find the products and DIY resources you need to keep your entry doors (and your energy bills) in great shape. Effectively seal your exterior doors and keep harsh summer weather outside where it belongs!