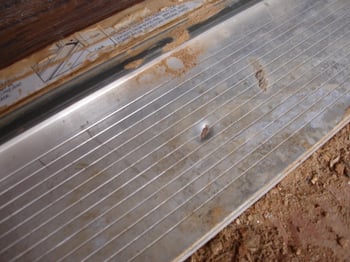 Whether you're a builder, a remodeler, or a DIY-er, no one likes the feeling of finishing a home project only to find the exterior sill deck has been damaged during the process. A damaged deck doesn't just look bad – even surface scratches can lead to rusting and further issues over time. Repairs can mean replacing the entire sill, or even the door unit.
Don't live with sill deck damage, but don't pay to replace your entire sill system either!
Meet the Replaceable Deck Sill
Construction mishaps, painting, and even time can leave you with scratches, dents, and discoloration on your exterior sill deck. The Replaceable Deck Sill is the first and only sill that lets you avoid the cost and time of replacing your sill. With RDS, sill deck damage is a quick and easy fix.
A damaged sill comes with a high cost in both time and money to replace. Traditionally, sill deck damage means cutting into the jamb and ripping out the original sill to replace it with a new one. RDS eliminates this costly problem by providing you with an easy and cost-effective solution. Once the replaceable deck sill is installed, anyone can replace the sill deck in a few quick steps with tools you have on hand.
Sill Deck Damage Goes From Damaged to Done in 4 Easy Steps:
Step 1: Disengage
Use a putty knife to bend the edge of the deck away from the substrate.
Step 2: Remove
Slide the damaged deck straight out, away from the sill.
Step 3: Replace
Slide the new deck into place and tap the edges with a mallet and wood block.
Step 4: Done
Enjoy your damage-free deck!
The Replaceable Deck Sill is available with a variety of sill caps and finishes. Browse our selection to find the sill that's right for your door. Need help finding what you need? We're happy to help!