Welcome back for another #FixItFriday! On this month's edition it is all about finding the astragal that suits the french door system you already have installed or to determine the right replacement. To make determining the right astragal for your home easier, we have compiled a few distinct indicators of your existing astragal to check over.
Door Panel Measurements
Locating the right astragal for your french door system can be less daunting when you know the height of your door panel. To find this, start your measuring tape at the top of the door panel. Take the measuring tape down the length of the door panel and note where the door stops. This measurement will help you determine whether you will need an 80" or 96" long astragal.
Astragal Swing & Handing Selection Guide
When replacing door components like an astragal, it's crucial to know whether a door is a right-handed or left-handed door, along with whether it's inswing or outswing.
We base all astragal orientations on the active door - NOT the inactive door. Due to this, it is very important to use the active door to determine the handing and swing of your french door system.
For our astragal systems, handing is done by putting your back to the hinges of the active (primary) door panel. With your back to the hinges, is the door panel swinging to the left side of your body or the right side? If it is swinging to the left, it is a left-handed door. If it is swinging to the right, it is a right-handed door.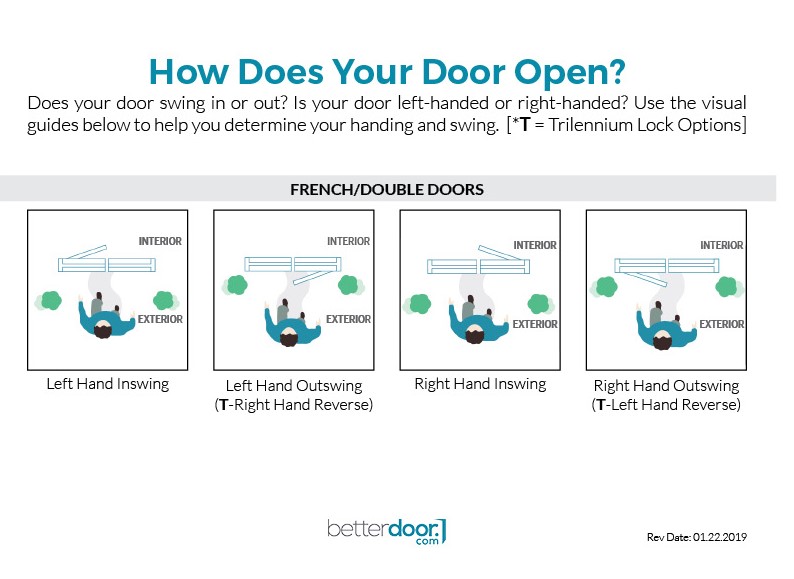 What is the spacing between my door panels?
Another important piece of information to understand before purchasing your new astragal is your spacing. Endura Astragals require 27/32" between the door panels. This is made up of the astragal body width and the strike margin. The body of the Endura Ultimate Astragal Systems extends 11/16" off of the edge of the inactive door panel. The ideal margin between the face of the astragal system and the edge of the active door panel is 5/32" (More about door margins.) Astragal bodies come in different widths depending on manufacturer. Knowing the width of your astragal leaves out more guessing when choosing the right fit.
What is the thickness of my door panel?
The astragal body is designed to fit around a door panel that is 1-3/4" or 1-11/16" thick.
How can I tell which astragal I have?
Choosing the correct astragal replacement part can heavily depend on the astragal system currently installed. Use our "cheat sheet" to determine what you have.
How to decide which Endura Astragal you want?
This document showcases each Endura astragal that is offered on BetterDoor, as well as the identifying features that differentiate them.