In 2016, the BetterDoor team realized that there were not many resources that encouraged and helped homeowners and DIYers tackle door projects on their own. So, we decided to fix that!
Months of brainstorming and planning went by, and on October 17th, 2016, BetterDoor.com was launched and ready to help you improve your doors.
A year has passed, and we're reflecting on our journey and all that BetterDoor has accomplished so far.
Our World Meets Yours
Since our very first order, the BetterDoor Fulfillment Team has worked hard to ensure that all of our items are packaged and sent off to customers with care. In the last year, we have distributed door components across 49 of the 50 U.S. states (we're coming for you Vermont ????), as well as Canada, and Australia.
Lights, Camera, Action!
At BetterDoor, we have been committed to creating and sharing instructional videos, how-tos, and other resources to help you improve your doors. We have a lot more ideas up our sleeve, and look forward to sharing more project ideas and guides with you soon!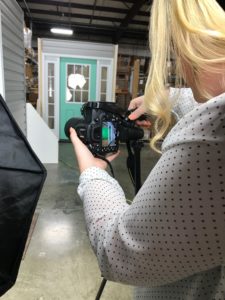 You Call, We Answer
The BetterDoor Customer Service team works hard to provide you with expert service and extensive resources to help you complete your project. If questions arise, or you simply need more information about your order, we're always here to help!
We're Growing!
Last month, we reached a milestone with 2,000 likes (and counting) on Facebook! We like you too, and we're excited to continue growing and impacting customers everywhere! Follow us on Facebook to stay up to date with the latest trends and tips to make your door better.
Thank You!
As we wrap up our very first year, the BetterDoor team would like to give a big thanks to each and every one of our customers who has helped us reach our goals. To show our appreciation and excitement, we are offering 10% off the entire store, for one day only.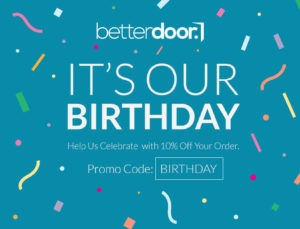 Our success lies in helping you improve and complete your door-related projects, and we look forward to turning your broken doors into BetterDoors in year two!